Chairperson Message
Building Resilience through Harmonious Cooperation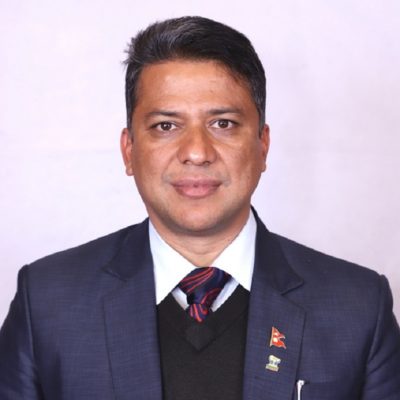 As we enter the last quarter of 2020, we remain completely COVID stricken and it seems like we have to adjust ourselves to the new normal of living with the virus for a quite longer span of time. As the sole central federation of financial cooperatives in the nation, NEFSCUN remains firmly committed to serving its members across the nation in a more serious and stronger manner despite the curse of catastrophe. Consequently, we have embarked on a journey of digitization, network management and cooperation among cooperatives framing a four year roadmap (2020-2023) with an apt slogan 'Building Resilience through Harmonious Cooperation.'
Although times are tough, I am extremely optimistic that we can successfully overcome the challenges with our fighting spirit and collaborative endeavors. We need to prove that cooperatives care by relentlessly working hard to serve every way possible to our members. NFESCUN is with all our members in these testing times and represents those who are genuinely committed to serving members first. The standard procedure will, by all means, assist in furthering credit union network management campaign concentrating on standardization and stabilization as the two wheels of our chariot.
We have engineered a pragmatic strategy inculcating a bottom up approach in 4×7 matrixes that prioritizes i) affiliation and contractual solidarity ii) standardization of operation, iii) pooling and sharing resources and iv) self regulation and governance. These strategies direct our course and form the foundation of our future undertakings.
There are issues in which we have to consistently keep endeavoring to convince the government and bureaucracy that financial cooperatives are contributing to economic growth through capital formation, credit investment, saving mobilization, employment generation, entrepreneurial flair, leadership development and inclusiveness. However, issues of credit unions outside the network of NEFSCUN are major concerns and as a central federation we are pushing out limits to address the issue by expanding our horizon.
Our main concern is speeding the pace of establishing Stabilization Fund as per the spirit of the new cooperative law. We are heading in the right path but we need to demonstrate affiliation and contractual solidarity in giving this process a concrete result at the earliest. The Solidarity Fund will work as the national reserve fund that will as a support system in case of unexpected emergencies and conditions beyond our control. In addition, it will also help institutionalize the achievements that we have got with the promulgation of new cooperative law.
We are also working towards the sustainability of primary credit unions that ultimately guarantees the durability of the central federation. Realizing this fact, we have properly channelized and decentralized our trained human resources to equip disadvantaged credit unions with the necessary training, techniques, and tools to better their services ensuring good governance, integrity, and transparency. To materialize our goal in this direction we have launched a new program called FOUNDATION that will be implemented in coordination and collaboration with the local governments. The program will be a stepping stone to reaching out to other quality assurance programs that have earned higher national and international recognition like PROBATION and ACCESS.
NEFSCUN has always worked to bring best international practices in the movement so that our members benefit. We will not only keep doing so but extend and expand our international relation so that we receive the wonderful opportunity of being fed with diverse tried and tested management practices that best suit our situation. Our entry into the bigger and wider international sphere with the membership of World Council of Credit Unions (WOCCU) has opened opportunities of pooling or sharing resources plus keeping ourselves abreast of latest happenings in the field which can be internalized to prosper. Moreover, we are soon entering into other platforms to strengthen our global reach and accessibility.
Once again I, as the chair of the federation, assure you all that we are driven by the enthusiasm of our members to contribute more in the movement and we express our solidarity with our members in this aspect. I also expect the rise of support from you all in leading the movement by example in the standardization of our operations by strongly putting our faith in self-governance and self-discipline. I welcome with open arms, appreciate your valuable suggestions and grievances which keep the momentum going within the federation. Stay safe to stay stronger.
Paritosh Paudyal
Chairperson